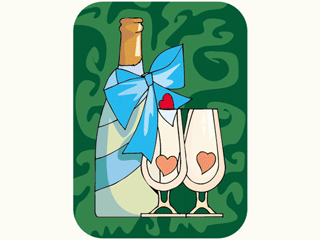 Has it really been that long? - Where did the time go? - It kinda seems like yesterday...And then it kinda doesn't... lol...
Next month will be hubby's and my wedding anniversary - 17 years!
As with most marriages we've weathered some pretty bad storms, but we did it together. He still makes me laugh, and we still have fun together. I think that's quite a good thing to say after 17 years.
The 17th wedding anniversary
is a day to celebrate a past filled with accomplishments and commitment. It is a day to look ahead to all that a future may hold.

Furniture is the singular association for a 17th anniversary gift. Where it would be thrilling to purchase a new dining room set, a new bedroom set or even a plasma television, these large-scale purchases may not be an option. If you feel strongly about adhering to an anniversary gift list, but do not want a large purchase, just scale it down. Furniture doesn't have to mean a new couch or desk. It can be something as small as a plant stand or trinket to enhance existing furniture.
I think the huge Victorian framed picture
that we found at our local Salvation Army fits the bill to a tee!